For 80 Years, An Iconic

Culinary Experience in San Francisco

A fixture for eight decades, the Top of the Mark is, quite simply, a quintessential San Francisco experience. Offering spectacular views of the San Francisco skyline from the hotel's 19th floor, our iconic sky lounge dazzles dignitaries, celebrities, and in-the-know visitors with its creative cocktails, and signature martinis. And don't be surprised if you find a few servicemen enjoying a "Squadron Shot" - it's a cherished tradition dating back to World War II.

Book your Top of the Mark reservation on Resy
Hours of Operation
*Top of the Mark will be closed for a private event on Saturday, Jan. 21, 2023.
Doors open daily:
Monday - Thursday
4:30 pm - 11:15 pm
Friday
2:30 pm - 12:30 am
Saturday
2:30 pm - 12:30 am
Sunday
3:30 pm - 10:30 pm

Kitchen Hours:
Monday-Thursday
4:30 pm - 9:30 pm
Friday
3:00 pm - 10:00 pm
Saturday
3:00 pm - 10:00 pm
Sunday
4:00 pm - 9:00 pm

Offering signature cocktails, wine, beer, spirits, and light appetizers
Special Events and Promotions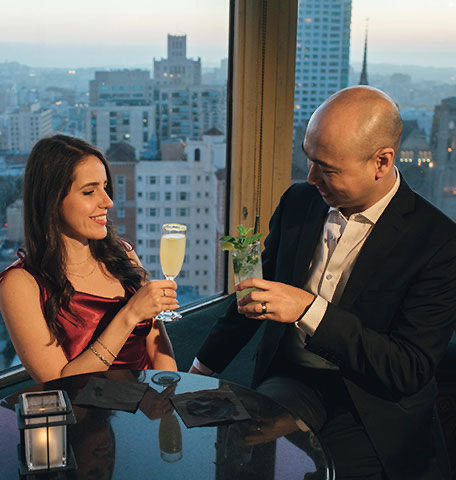 Meet Me in the Sky
Valentine's Day
The chic Top of the Mark is a splendid spot for a Valentine's Eve rendezvous, with the undeniable romance of the City at your feet. There will be a special performance by Nick Rossi Trio (cover $5 for hotel guests, $10 for others). For couples, a half bottle of Champagne and an exclusive appetizer platter to share – including two each of Oysters with Jalapeno and Pomegranate Mignonette, Dungeness Crab Crostini, Hamachi Crudo, and Beef Tartare – is on offer for $100.
Nick Rossi and His Swing Four
Saturdays
Nick Rossi and His Swing Four will perform live at the Top of the Mark, bringing back swing, jump blues, and guitar-driven jazz.
First Saturdays each month in 2023.
6:30 pm - 10:00 pm
$15 cover applies ($10 for in-house guests)