Golden City Gatherings

San Francisco Meeting Rooms

Combining classic charm with state-of-the-art technology, our San Francisco meeting rooms offer an ideal mix of historic character and modern comforts. From seminars and workshops to board meetings and corporate expos, our elegant venues are suited for all kinds of business and social events. Flexible and dynamic, our meeting spaces provide natural lighting, sophisticated décor and the perfect backdrop for learning, meeting, mingling and dancing.
Meeting Amenities

& Services
Expert meeting and event planning
Elite Full-service catering
Latest technology tools
Virtual Hybrid Events
A Very Special Event
"Once again you and your team have helped us have a very special event. From the food to the wait staff to the AV support to your own excellent customer service--we couldn't have asked for a better venue than the Intercontinental Mark Hopkins! Thank you!"
Great Service
"On behalf of my team, I'd like to extend our commendations for the great assistance and service from your convention services and catering team, most especially from Solera Smith. It was my first event at your establishment and I am very happy with the service, attention and timeliness that Solera (and her team) has provided us from beginning to end. We had a seamless planning experience, well organized teams on site and quick inquiry/response turnaround that resulted to a great event turnout for us."
Memorable Experience
"Thank you very much to your whole team for making this such a memorable experience and kindly let your team know how important and appreciated their efforts and contributions are to all those they come into contact with. Happy Holidays!"
Well-Trained Talent
"We are in the business of gauging exceptional, well-trained talent. You get five stars: You have chosen and trained staff who are smart, gracious, and proactive."
Meet With Confidence
As the new normal emerges, we are proud to accommodate you with spacious, flexible meeting and conference rooms that will allow you to host events at a comfortable, social distance. We also have hybrid virtual meetings and new standard operating procedures in place.
View Our 3D Floor Plans: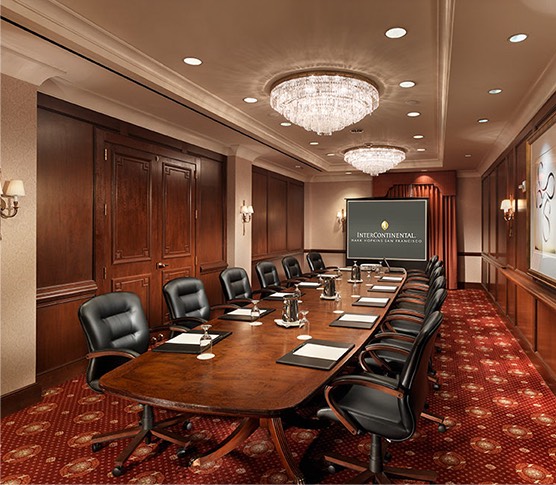 Peacock Court
4,400 sq. ft. | 800 guests
With elegant gold and ivory walls, floor-to-ceiling windows, and a well-known legacy of hosting countless royals, presidents, famous performers, and celebrities, our grand ballroom is a favorite of the San Francisco elite.
Room of the Dons
2,128 sq feet | 300 guests
With seven-foot-high murals painted by two of California's most famous Western artists, Maynard Dixon and Frank Van Sloun, this inspiring ballroom provides a unique and artistic space for creating.
California Room & Powell Room
1,368 sq feet | 140 guests
With red and gold furnishings, delicate taupe walls, and large picture windows, these two adjoining rooms create the ideal space for networking.
Florentine & Garden Room
378 sq feet | 30 guests
Designed for intimate gatherings, these lobby level rooms offer grand windows and large mirrors, providing the effect of a royal chateau.
Six Continents Room & George D. Smith
1,720 sq feet | 180 guests
Located on the mezzanine level, these modern rooms feature subtle red carpeting, gold accents, and taupe walls. Offering fresh décor along with crystal lighting and large windows onto the city, this room is ideal for a larger gathering.
Lobby Terrace
1,500 sq feet
Opening up to the Peacock Court with an airy feel, our lovely terrace is designed with lofty ceilings and intricately wrought-iron skylights— ideal for larger events.
Top of the Mark
3,535 sq feet
With stunning 360-degree views of downtown San Francisco, the Golden Gate Bridge and the beautiful Bay, our Art Deco themed lounge and terrace features rich woods, wrought iron detailing and a floor-to-ceiling mirror as a backdrop.
Curated Catering For

San Francisco Events

Our team of internationally trained chefs and beverage experts will customize a menu and drink plan that reflects your personal tastes and desires. From plates of innovative hors-d'oeuvres to unforgettable main course dishes, add some unique flavor to your next event.

For more information on catering services at the InterContinental Mark Hopkins, please contact us directly at 415-616-6959 or email sfoha.sales@ihg.com